May 21, 2020 COVID-19 report
Dear Colleagues:  Welcome to my Thursday, May 21 report – now in the fifth month of COVID-19 in Ontario. Visit the COVID-19 Portal for the many resources RNAO offers on COVID-19. You can refer to earlier update reports here, including thematic pieces in my blog. Feel free to share this report or these links with anyone interested – they are public.
Today, we continue our focus on PPE and proper usage. We appreciate the following article and video prepared by Dr. Jeff Powis, chief of infection prevention and control at Michael Garron Hospital. I also want to comment on how impressed we are with his expertise, commitment and dedication to staff and patients wellbeing.   
Debunking PPE myths with Dr. Jeff Powis: Which masks should health care workers wear during COVID-19?
Dr. Jeff Powis used a black light to demonstrate the potential self-contamination risks when donning and doffing a surgical earloop mask and a mask with horizontal straps (N95 mask). Results found that self-contamination was higher with the use of an N95 mask.
When it comes to the use of personal protective equipment (PPE), Dr. Jeff Powis has one goal in mind: Do whatever it takes to keep health care workers and patients safe.
While PPE has always been a cornerstone of health care worker safety, it's never been more critical, in higher demand, or publicly debated than during the COVID-19 pandemic.
One of the most widely deliberated PPE topics across the health care system continues to be around the appropriate use of masks, more specifically, when to wear a surgical mask with ear loops versus an N95 mask.
Both surgical earloop masks and N95 masks filter small particles (between 0.1 and 0.3 microns) at greater than 95 per cent efficiency. N95 masks have a tight seal with the healthcare worker's face and are the preferred mask when performing aerosol-generating medical procedures (AGMPs). Aerosols are small enough that they float freely in the air, and as a result a tight seal is required to keep them out.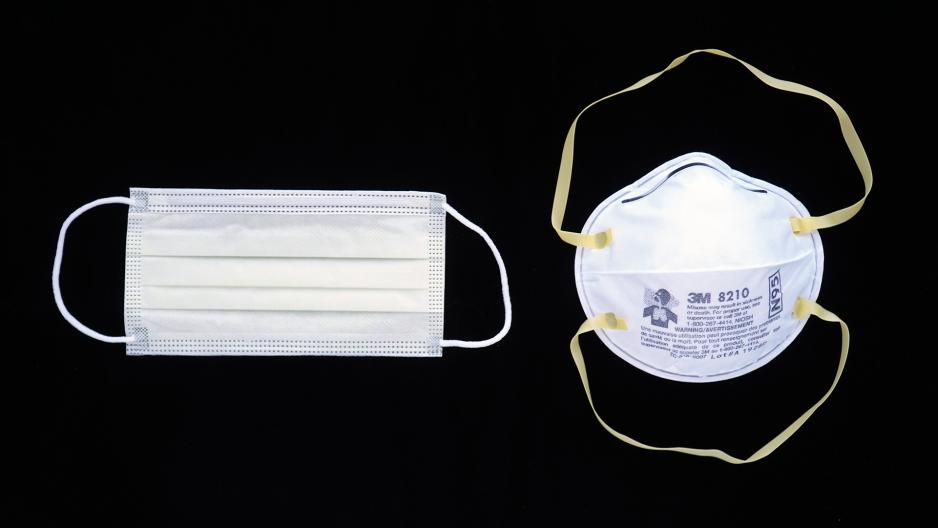 Surgical earloop mask (left) and mask with horizontal straps (N95 mask) (right).
The great debate: Which masks should health care workers wear during COVID-19?
According to Dr. Powis, it is clear that COVID-19 is transmitted through droplets; it is not an airborne illness. As a result, droplet/contact precautions (earloop mask, face shield, gown and gloves) are the best way to keep health care workers safe when providing routine care for individuals with suspected or confirmed COVID-19.
An N95 mask is required when AGMPs are performed on patients with suspected or confirmed COVID-19, for example during tracheotomy, intubation and noninvasive positive-pressure ventilation, to name a few. Ontario hospitals have guidance and access to the full list of AGMPs from Ontario Health.
Often the greatest risk to healthcare workers is related to self-contamination at the time of doffing their PPE.
"After watching people don and doff their N95 masks, I noticed that people struggle with the horizontal straps so I thought I would test the theory," says Dr. Powis.
In this short video, Dr. Powis used a black light to demonstrate the potential self-contamination risks between donning and doffing an earloop surgical mask and mask with horizontal straps (such as an N95).
"What we found is that earloop masks are easier to doff in comparison to a mask with horizontal straps. Masks with horizontal straps can actually predispose the user to self-contamination," says Dr. Powis.
According to Dr. Isaac Bogoch, an infectious disease expert at University Health Network (UHN), "Human factors research provides a pragmatic window to real-world issues. In this case, there may be greater risk of self-contamination while donning and doffing N95 masks compared to surgical masks, based on their strap design."
"Policymakers and front-line healthcare workers should consider these findings when choosing to use and re-use personal protective equipment," says Dr. Bogoch.
Healthcare workers need to do a point-of-care risk assessment (PCRA) to ensure they make the right decision regarding their use of masks.  This video demonstrates that the risk of self-contamination is likely greater with an N95 mask.
"When choosing a mask it's important to choose the right one for the job," according to Dr. Powis.
"There are times when you need an N95 mask, but using one for routine patient care when it's not necessary won't make you safer, it paradoxically may increase your risk."
Your messages: Voices and responses
Each day we receive numerous messages and phone calls. Each day we also welcome new readers to this daily report: Thank you deeply for the work you do always and especially during this public health crisis, and also for keeping us well informed. You can see previous reports at RNAO updates and resources on COVID-19 for members and other health professionals. Feel free to share these updates with other health professionals and other organizations both at home and abroad. RNAO media hits and releases on the pandemic can be found here. Daily Situational Reports from Ontario's MOH EOC can be found here. Many of the articles you see here are posted in my blog, where you can catch up with earlier issues. The COVID-19 Portal is here.
Nurses in specialty care: Foot care services
As mentioned in this report, we have received a number of emails from nurses who provide foot care services in a variety of settings (home care, retirement homes, long-term care, community clinics, etc.) who are seeking information about the opening of services and how they will be able to resume their practice safely. Many of these nurses are in independent practice, while others work in community funded programs. To address the needs expressed by the nurses in this specialty area of practice, members of the IABPG and policy teams will be hosting a webinar on Thursday May 28th at 3:30 - 4:30 pm EDT. This webinar is open to any foot care nurses and others who would like to join us for dialogue and discussion. If you are interested and available to attend, please register here: https://us02web.zoom.us/meeting/register/tZUpcOuqqjMrGNB1b4JWVuUZUB3jeoZVTDqM
RNAO response to announcement of an independent commission into Ontario's long-term care system 
Thanks for the messages thanking us for issuing a robust response to the government's announcement. Here is the RNAO press release:
TORONTO, May 20, 2020 – The Registered Nurses' Association of Ontario (RNAO) welcomes the Tuesday, May 19 announcement by Dr. Merrilee Fullerton, Minister of Long-Term Care, of an independent commission into Ontario's long-term care (LTC) system. 

RNAO expects the fully independent commission – set to begin in September – will be provided with broad and comprehensive terms of reference to examine both the government and the health-system response to COVID-19, as well as the long-standing systemic shortfalls within the sector. The members selected to participate in the commission should be widely respected experts on the topic. 

The work of the commission should be part of a reconsideration of the importance of community care within a health system that continues to be hospital-centric, as examined by RNAO in its report on Enhancing Community Care for Ontarians (ECCO), issued on May 12. ECCO 3.0 calls on government and health system partners to strengthen community care and anchor the health system in primary care to better meet the health needs of all Ontarians. First released in 2012 and next in 2014, ECCO 3.0 aligns with much-needed health-system transformation that responds to the COVID-19 pandemic. ECCO 3.0 recommendation number six calls to re-imagine LTC as 'home' to residents, and integrate nursing and retirement homes into enhanced community care plans and funding.

The terms of reference for the commission should address a number of factors RNAO believes are at the core of the shortfalls that let down LTC residents during the pandemic:
Issues of systemic response, such as low prioritization of the LTC sector, and the deadly delays in making personal protective equipment (PPE) and surveillance testing available 

Critical examination and a complete overhaul of the archaic funding model that has existed for Ontario nursing homes for decades, which includes: (a) insufficient overall funding levels for the sector, (b) a funding scheme that only rewards nursing homes for the level of complexity and acuity of its residents, while financially penalizing nursing homes that deliver better health and quality-of-life outcome, and (c) a lack of access to an inter-professional team – including occupational therapist, social worker, speech therapist and respiratory therapist – to provide expert care  

Key staffing issues, such as: (a) adequate number of staff, and (b) the proper skill mix and staffing ratios of regulated and unregulated staff – including larger utilization of NPs, RNs and RPNs 

Changes to the employment approach, including: (a) staff not working in more than one facility with benefits, (b) salaries that are commensurate with those paid to the same health workers in other sectors, such as hospitals, and (c) offering full-time employment to staff who request it to enable continuity of care for residents and staff retention

Examination of management practices and organizational structure in the sector, such as health-care expertise required for home administrators, as well as levels of preparation and compliance with regulation

Regulatory matters, such as a revision of the

Long-Term Care Homes Act, 2007

and its regulation – which is out of date, unclear and does not represent best practices – with the purpose of providing for a robust LTC system that is person- and family-centred 

Proper facility standards, such as: (a) ensuring all residents have separate rooms unless they wish to share with a partner, (b) limiting the number of residents per room to no more than two, and (c) create facilities adequate for isolation of residents when required
"RNAO appreciates Premier Doug Ford saying on various occasions that the long-term care system in Ontario is broken, a phrase Minister Fullerton repeated on May 19," RNAO President Dr. Angela Cooper Brathwaite says. "For the past decade, we have been urging the government to institute robust funding and staffing reform, but this must be done as part of a broader conceptualization of community care as central to health care, as we detailed in our ECCO 3.0 report." 

The issues and the proposed solutions are not new. In fact, RNAO raised many of them during the SARS outbreak in 2003, when the association called for a public inquiry, which was later announced and led by the late Justice Archie Campbell, who tabled the SARS Commission report in January 2007. RNAO also advocated for a public inquiry into safety and security in LTC, which launched in 2017 and was led by Justice Eileen Gillese, and resulted in a final report and recommendations released in July 2019. 

RNAO will be watching to ensure the commission that has just been announced does not delay change and it leads to the drastic action that is sorely needed. The government must demonstrate its willingness to engage in real systemic reform and not tokenism. 

"While RNAO fully supports and will eagerly participate in the commission's work, we want to be clear this work must not deter from required immediate action, nor delay the report on the adequacy of regulated staff in long-term care, expected to be tabled by Minister Fullerton on July 31," RNAO CEO Doris Grinspun says. "Close to 1,500 lives have been tragically lost in long-term care during the pandemic, including residents and staff. We need to ensure those lives are honoured and respected. And the best way to do that is to ensure nursing homes in Ontario are adequately funded and the staff supported to fully protect the health and safety of everyone. As COVID-19 has shown this is not the case today and the results are devastating for residents, their loved ones, and the staff who heroically care for them under the most trying circumstances," Grinspun alerts.
Together we can do it
Today is day #63 of RNAO's #TogetherWeCanDoIt campaign… RNAO began this campaign on March 19 to cheer up health care workers and others in essential services. The campaign has gone far and wide. I want to thank Susan McNeil, RNAO star, who gave life to this campaign! To Susan, the entire RNAO staff and new cheerer Anne Marie Morris for her creativity – THANK YOU! The noise is loud and fun in homes, workplaces and social media to #cheer4healthworkers! Please remember to join-in this community building moment every evening at 7:30pm local time - until we defeat COVID-19! And we need you to always post tweets from your communities, your children, workplaces art and memory places - with your messages, cheers here, pots & pans, songs and other expressions of love, thanks, solidarity, and more music: #TogetherWeCanDoIt.
MOH EOC Situational Report #116 here for Wednesday, May 20
Situation:
Case count as of 8:00 a.m. May 20, 2020

Area

Case count

Change from yesterday

Deaths

Change from yesterday

Worldwide total

5,008,359

+96,625

325,323

+4,871

Europe

1,825,618

+16,772

164,794

+987

China

82,965

+05

4,634

0

Middle East

463,833

+13,248

12,729

+186

Asia & Oceania

314,579

+11,024

8,438

+250

Africa

93,586

+3,263

2,926

+72

Latin America and Caribbean

577,535

+30,681

32,332

+1,733

North America

1,650,243

+21,632

99,470

+1,643

United States

1,571,131

+20,592

93,558

+1,573

Canada

79,112

+1,040

5,912

+70
390 new cases were reported in Ontario today, bringing the cumulative case count to 23,774 (this includes 18,190 resolved cases and 1,962 deaths).

In Ontario, a total of 567,176 tests have been completed, with tests performed at Public Health Ontario Laboratories and non-Public Health Laboratories. There are currently 4,444 tests under investigation.
991 patients are currently hospitalized with COVID-19; 160 are in ICU; and 120 are in ICU on a ventilator.
EOC report #116 for May 20 informs of the following actions taken:
As the

Ontario government

carefully and gradually reopens the province, those taking public transit, returning to work or going out shopping are being urged to continue to adhere to public health advice as the best line of defence against COVID-19. To assist the public, the Ministry of Health today released specific recommendations on how to choose, wear and care for appropriate face coverings used in public where physical distancing is not possible, along with additional safety measures for provincial transit agencies.

The Command Table met on Tuesday; a summary of the discussion is available on the

Ministry's website

.

The Ministry continues to work on the revision of Directive #2 and related requirements to support the gradual restoration of health services. Please note that CMOH Directive #2 is still in effect. Providers are encouraged to continue planning and further details will be provided once confirmed.  
EOC report #115 for May 19 informs of the following actions taken:
The

Ontario government

, in consultation with the Chief Medical Officer of Health, has extended all emergency orders currently in force until May 29, 2020. That includes the closure of bars and restaurants except for takeout and delivery only, restrictions on social gatherings of more than five people, and staff redeployment rules for long-term care homes and congregate settings like retirement homes and women's shelters. The government is also allowing drive-in religious gatherings.

The Ministry continues to work on the revision of Directive #2 and related requirements to support the gradual restoration of health services. Please note that CMOH Directive #2 is still in effect. Providers are encouraged to continue planning and further details will be provided once confirmed.

The Ontario Government has developed an online workplace PPE supplier directory, which can be found

here

.  

The

Ontario government

is protecting the health and safety of students during the COVID-19 outbreak by keeping schools closed for the rest of this school year. This decision was made after consulting with the Chief Medical Officer of Health, health experts on the COVID-19 Command Table, and medical experts at The Hospital for Sick Children. At the same time, the government is planning for the reopening of schools for the 2020-21 school year, the gradual reopening of child care, and the opening of summer day camps subject to the continuing progress in trends of key public health indicators.

The Ministry of Labour, Training and Skills Development has developed a Workplace Safety & Prevention Services Guidance on Health and Safety for Personal Services Settings during COVID-19, available

here

.

An updated version of the Labour, Delivery and Newborn guidance is available on the Ministry of Health

website

. The update includes an alternative testing collection method for newborns and the corrected interval for temperature checks of women during labour.  

Updated documents for Patient Screening, Testing Guidance, and Symptoms list have been uploaded to the Ministry of Health's

website

.
Staying in touch        
Please continue to keep in touch and share questions and/or challenges of any kind, and especially shortages of PPE. Send these to me at dgrinspun@rnao.ca. We are responding daily and are continuously solving your challenges. RNAO's Board of Directors and our entire staff want you to know: WE ARE HERE FOR YOU!
Thank you deeply colleagues in the front lines; in administrative roles; in all labour, professionals and sector associations, and in governments in Ontario, in Canada and around the world. We are here with you in solidarity. These are stressful and exhausting times; the only silver lining is coming together and working as one people – for the good of all!
Together, we must redouble our efforts to tackle COVID-19 with the best tools at hand: full, accurate and transparent information, calmness, determination and swift actions. 
Doris Grinspun, RN,MSN, PhD, LLD(hon), Dr(hc), FAAN, O.ONT
Chief Executive Officer, RNAO  
RECENT RNAO POLICY CORNER ITEMS:
19 May - With the pandemic curve flattening, VIANurse program will focus its effort on outbreaks – go here.
14 May - Nursing Week update – go here.
14 May - Pandemic puts health system to the test: Nurses have answers for shortfalls – go here.
14 May - Disappointment for not being included in pandemic pay – go here.
13 May - RNAO saddened by the loss RN Brian Beattie to COVID-19 – go here.
13 May - End racism and prejudice – go here.
12 May – Enhancing Community Care for Ontarians (ECCO 3.0) – go here
11 May - Nurses share their successes and challenges during National Nursing Week – go here.
10 May - A story of hope, ingenuity, support and genuine care for an LTC resident – go here.
7 May    - Counting the missing deaths: Tracking the toll of the coronavirus outbreak – go here.
5 May    - Life on the front lines of the pandemic: Profile of RNAO member NP Daria Gefrerer – go here.
5 May    - Addressing differential access to virtual care due to technology inequities – go here.
3 May    - Being person-and-family-centred during COVID-19 – go here.
1 May    - Migrant agricultural workers and the COVID-19 crisis – go here.
30 April - COVID-19 pandemic in provincial institutions and correctional centres – go here.
28 April - Supporting First Nation Communities during COVID-19 – go here.
27 April - Responses to COVID-19 for persons experiencing homelessness in Toronto: An update – go here.
25 April - Lessons learned through a COVID-19 nursing home outbreak – go here.
25 April - Letter from a retired RN to Premier Ford: The problems with LTC were evident long before COVID – go here.
23 April - Working with seniors in long-term care requires specialized knowledge – go here.
22 April - Shaking the stigma: We need a proactive COVID-19 response for mental health and addiction – go here.
21 April - We Require Expanded and Accessible COVID-19 Data in Ontario – go here.
20 April - Can Loss of Smell and Taste Help Screen for COVID-19? – go here.
18 April - COVID, Trump and the World Health Organization – go here.
16 April - A Home Based Model To Confront COVID-19 – The Case Of The Balearic Islands – go here.
15 April - COVID-19 and the Challenges in Homecare – go here.
14 April - Reprocessing Of N95 – An Update – go here.
14 April - A New COVID-19 Facility For Persons Experiencing Homelessness In Toronto – go here. 
13 April - Practical Tips for Safe Use of Masks – go here.
10 April - Ontario's Tragedy in Long Term Care Homes and Retirement Homes – go here.
10 April - RNAO Action – Supporting Long-Term Care – go here.
10 April - Update For Nursing Students – NCLEX Exam – go here.
9 April - Celebrating Passover, Good Friday, Holy Saturday, Easter Sunday and the start of Ramadan during a pandemic – go here.
9 April - Guidance on use of N95 mask – go here.
7 April - Sentinel surveillance and on-site testing in the homeless service sector – go here.
7 April - Reprocessing of n95 – safe? – go here.
5 April - We must change the way we do testing and case definition – go here.
5 April - Ringing the alarm bells on critical care beds – go here.
4 April - COVID-19, stay at home and domestic violence – go here.
We have posted earlier ones in my blog here. Please go and take a look.
RNAO'S policy recommendations for addressing the COVID-19 crisis: We presented 17 recommendations for government, last revised on April 2. Read them here.
Information Resources
Public Health Ontario maintains an excellent resource site on materials on COVID-19. This is an essential resource for Ontario health providers. 
Ontario's health provider website is updated regularly with useful resources here.
Ontario's public website on the COVID-19 is there to inform the general public – encourage your family and friends to access this public website. The WHO has provided an excellent link for you to share with members of the public here.
Please promote the use of Ontario's COVID-19 self-assessment tool: It also has a guide where to seek care, if necessary. Its use will provide the province with real-time data on the number and geography of users who are told to seek care, self-isolate or to monitor for symptoms. Data will inform Ontario's ongoing response to keep individuals and families safe.
Health Canada's website provides the best information capturing all of Canada. It contains an outbreak update, Canada's response to the virus, travel advice, symptoms and treatment, and resources for health professionals.
The World Health Organization plays a central role in addressing the COVID-19 pandemic. See here and here.
You can find up-to-date global numbers in Coronavirus COVID-19 Global Cases by Johns Hopkins CSSE.