Hundreds registered participants for RNAO's 95th AGM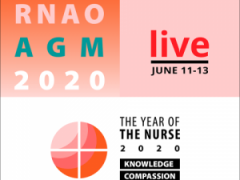 We got started! I was so happy to be with so many of you – nurses and friends of nurses, starting yesterday evening, at our virtual Annual General Meeting taking place from June 11-13, 2020. We are excited to engage with you in this new format in light of the COVID-19 pandemic. Let's continue to celebrate the Year of the Nurse and the formidable work of registered nurses, nurse practitioners and nursing students in such unprecedented times.
We already have more than 600 registered participants, and you can still register online or join live stream. All events will be broadcast live on RNAO.ca, YouTube and Facebook. Registration is free and open to anyone. Go here to register, and go here for all the information. This is our press release summarizing all the events. And click here for our absolutely stunning AGM Report.
Yesterday, June 11, we had our Opening Ceremonies from 6:00pm to 7:00pm, featuring live remarks from Christine Elliott, Deputy Premier and Minister of Health and Mike Schreiner, Leader, Green Party of Ontario, as well as video greetings from Dr. Merrilee Fullerton, Minister of Long-Term Care, Andrea Horwath, Leader of the Official Opposition, and Steven Del Duca, Leader, Ontario Liberal Party. We also featured video greetings from Dr. Barbara Stilwell, CEO Nursing Now Global, and a letter from Richard Ricciardi, President, Sigma Theta Tau. We also had a very special guest – of course I am referring to Ms. Florence Nightingale. Yes, you heard me correctly, and you can see it for yourself here! Most excitingly, we celebrated our LTC BPSOs designation ceremony for 2020.
Today, Friday, from 4:00pm to 7:00pm, we'll hear from Premier Doug Ford, and we will conduct our usual business including the Association's auditor, provincial committees, followed by my yearly report that will undoubtedly showcase RNAO in action before and during COVID-19. As always, we will enjoy the consultation session on resolutions, media and member recognition awards, our president's remarks and the passing of the gavel from President Angela Cooper Braithwaite to incoming President Morgan Hoffarth.
All this is followed by an important closing keynote panel on Saturday from 11:30am to 1:00pm titled: Celebrating the Year of the Nurse: Scaling Up Our Voices, featuring international nursing leaders Dr. Barbara Stilwell, Executive Director of Nursing Now Global and Dr. Mary Wakefield, former Administrator, Health Resources and Services Administration (HRSA) and Deputy Secretary, U.S. Department of Health and Human Services under President Obama. This session will focus on the history of nursing and set the foundation for the next generation of nurses. 
If yesterday's opening ceremony was any indication with over 300 joining via Zoom and others joining our live stream – then today and Saturday should be filled with energy and fun as well. I am so excited myself, and looking forward to this boost of energetic and meaningful time together, albeit virtually.